Cast and crew aim to bring life to new romantic comedy
A story written and directed by theatre faculty member T.J. Walsh will debut this week.

By Lori Russell

Theatre students are laughing, learning and bringing a vision to the stage Wednesday in "Melrose Stories."

Clint Gage, a senior radio-TV-film major, has the lead in his first on-stage role with Theatre TCU. He plays Tom Kellogg, a New York writer who inherits a bookstore on Melrose Avenue in Los Angeles.

Tom visits the store after the reading of the will and is pulled into the lives of the workers at the store. He also discovers the store has a life and mystery of its own, Walsh said.

"It's a romantic comedy," said T.J. Walsh, the writer and director of the play. "It is a genre I'm drawn to because it asks that both the writer and audience view the world as a cup half full."

Performances will be 7:30 p.m. Wednesday through Saturday and 2:30 p.m. Saturday and Sunday in Hays Theatre in the Walsh Center for Performing Arts.

Walsh said students have added a lot to the play by suggesting lines and character revealing action.

Michelle Martinez, a junior theatre major, plays Rose Cisneros. She said she really enjoys having the writer as director. "It's been fabulous. It's like being part of the writing process; like creating a whole new play," Martinez said.

C.J. Meeks, a sophmore radio-TV-film and theatre major, plays the part of Walter Streiby.

"He's the guy who doesn't work in the bookstore, but he's always there. The goofy guy with the big mouth," Meeks said.

Meeks said he's glad he has a chance to be part of the production and enjoys working with both new and old faces.

"We find ways to change the lines a little and work on timing. It's a comedy, so we're always laughing," Meeks said.

Jaclyn Napier, a senior radio-TV-film and theatre major, has performed in several productions with Theatre TCU, including "On the Town" and "Twelve Angry Women." She also directs Assault Prevention Theater.

"There is more pressure when your director is also the writer," Napier said. "We want to understand his vision, and want the final product to be something he is proud of."

"Working on the play has been thoroughly engaging," Walsh said. "The students have been insightful and energetic and have brought depth to their roles."
Walsh said the cast includes 15 undergraduate students and 30 more students work on sets, lights and stage crew.

"All the designers have been very creative in finding the unique world of this play, this bookstore and the world it inhabits," Walsh said.

Although the play is a comedy, it touches on some adult themes, and is recommended for audiences 13 and over, Walsh said.

Admission is $10 for adults and $5 for students and seniors. For tickets, call (817) 257-5770.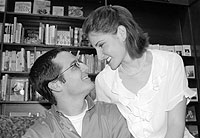 Stephen Spillman/Staff Photographer
Seniors Clint Gage, a radio-TV-film major, and Jaclyn Napier, a radio-TV-film and theatre major, star in the TCU production of "Melrose Stories."
CORRECTION

Junior theater major Michelle Martinez was misidentified as senior theatre and radio-TV-film major Jaclyn Napier in a front page picture Tuesday of the actors in "Melrose Stories."