Lady Frogs hopping along to end of season
Women's basketball team beats DePaul, prepares to face Houston
With two home wins over the weekend, the Frogs control their own destiny in Conference USA.

By Carlos Alvarado

Sunday afternoons are typically a time for rest.

For junior forward Sandora Irvin, Sunday afternoon was anything but restful. In fact, the only resting Irvin did against No. 12 DePaul was done by her sweat drenched No. 50 jersey, which was replaced with a dry and clean No. 20 jersey after blood stains and sweat left her with no choice but to switch jerseys.

"We thought they wouldn't know who she was," head coach Jeff Mittie joked of his star player who changed jerseys at halftime. "But we don't have that kind of luxury with a player like Sandora. I'm pretty sure they figured out who she was."

Despite her best efforts to conceal her identity, Irvin couldn't help but be noticed by the opponent as she led the Frogs past DePaul 73-53 with 19 points, 11 rebounds, 6 blocks, and 5 steals.

Irvin's 19 point and 11 rebound performance runs her streak of consecutive double-doubles to nine.

After another solid Irvin performance, Mittie said he has no doubt who his player of the year is.

"Sandora would be my player of the year," Mittie said. "But there are a lot of good candidates, (University of Houston guard) Chandi Jones is one of them."

And Irvin will get a shot to prove her worth against Jones, a Naismith College Basketball Player of the Year finalist, Friday in a game that could determine the Conference USA champion.

Jones currently leads C-USA in scoring and steals this season, averaging 21.7 points and 3.28 steals a contest. She also grabs 5.6 rebounds a game.

Houston is the top team in C-USA and they have put themselves in the position of getting no worse than a share of the conference title by defeating both DePaul and Marquette over the weekend as well.

If the Lady Frogs can beat Houston, they will have an opportunity to grab a share of the C-USA regular season title.

Defeating the Lady Cougars in Houston will not be easy, as they are 8-2 at home and own an eight-game winning streak.

Mittie said his team is just happy to have control over its own destiny.

"It's where we want to be," he said. "We want to be playing for the conference championship at the end of the year."

In the two teams' last meeting Jan. 18, the Lady Frogs fell to Houston 61-59. The Lady Frogs were leading the entire contest until the final minute of the game, a game in which Chandi Jones scored 32 points.

Coach Mittie said his team is not the same club that fell to the Cougars in January, though.

"I feel like the team has come together," Mittie said. "We have fought through some adverse moments. I'm seeing more fight. When things aren't going well, they fight harder."

The Lady Frogs say they feel good about their chances of claiming a fourth consecutive C-USA championship.

"We're very confident about the way we are playing right now," senior forward Tiffany Evans said. "We have the best starting five we've ever had, and everyone off the bench contributes."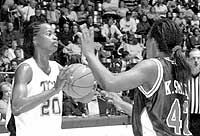 Stephen Spillman/Staff Photographer
Junior forward Sandora Irvin ended the Frogs' home schedule Sunday afternoon against DePaul University with 19 points and 11 rebounds, her ninth consecutive double-double.