Streak ends with win over OSU
Hot bats against Oklahoma State leads Frogs past the Cowboys.

The Horned Frogs snapped a four-game losing streak Thursday afternoon as they defeated Oklahoma State 14-6 in the opening game of the first Southwest Diamond Classic.

The Frogs, who were averaging 5.6 runs per game, exploded for 14 runs on 22 hits. Senior first baseman Chris Neuman led the way for the Frogs with four hits, including a three-run home run, two doubles, a single and four RBIs.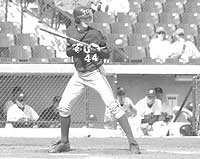 Ty Halasz/Staff Photographer
Freshman Austin Adams attempts to duck out of the way of a pitch that pegged him.