Shot down
Frogs blow out ranked Cardinals, demand national respect
Frogs record program's first victory against a top 10 team since 1990.

Corey Santee couldn't keep himself from smiling in the final minutes of Tuesday night's game.

And he had every reason.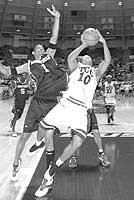 Stephen Spillman/Staff Photographer
Cardinal senior center Kendall Dartez attempts to block TCU junior guard Marcus Shropshire's goal in the second half of the game. TCU beat Louisville 71-46.