Review: Miracle on Ice
Disney's take of Olympic hockey captures feelings of the time
Disney's new movie "Miracle" is based on the true story of Herb Brooks and the 1980 U.S. Olympic team. All true hockey fans already know the story of "The Miracle on Ice," even though it happened more than 20 years ago. To put that in perspective, only a few undergraduates were even born when this happened, but yet the story is still inspiring today.

The U.S. Olympic Committee chose University of Minnesota coach Herb Brooks (Kurt Russell) to coach the American hockey team with the hope of not being embarrassed by the eastern bloc countries in the upcoming winter games at Lake Placid. The Soviet Union had dominated the Olympic hockey scene since the mid-1960s, while the U.S. team had been its whipping boy. In the movie, the team sets out as individuals playing on the same team, but through the course of the movie they grow close to one another, and through the tough-love coaching of Brooks, they realize a common goal to rise above the odds.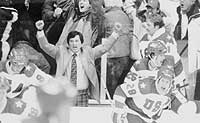 file photo
Kurt Russell's character, Herb Brooks, expresses his enthusiasm for the U.S. Hockey team during the 1980 Winter Olympics. Miracle opened nationwide Feb. 6.