Frogs face season's toughest foe
The men's tennis team brings a perfect record into their contest with No. 9 Texas A&M on Wednesday afternoon.

By Mary Hollis
Skiff Staff

To reward the TCU men's tennis team for running their record to a perfect 3-0, the Frogs get a date with one of the nation's most dominant programs this week.

Wednesday afternoon the No. 13 Frogs will look to remain unbeaten as they host No. 9 Texas A&M, in what the team says is one of the season's toughest.

If the Frogs can defeat A&M, they will probably enter the top ten in the nation for men's Division I tennis.

Senior Alex Menichini said a victory against a team the caliber of A&M would go a long way in proving the Frogs are one of the better teams in the nation.

"This would be a big win," Menichini said. "A&M is a team that could win NCAA. If we beat them, it puts us up among the elite."

He said the team should benefit from its early successes this season in a match of this magnitude, especially because they are progressively getting better and more confident as a team.

Assistant coach Cory Hubbard said this match will be huge for the team and it would be great if there were a big turnout of fans to support the Frogs.

"This is the biggest sporting event at TCU this spring because it's No. 13 against No. 9," Hubbard said. "It is a big rivalry with a long history; it will be an intense match."

Players and coaches both said they want to see a large crowd out to support the team at such an important match.

"The more people that come out the better," Menichini said. "(A large crowd) gives a good atmosphere and a lot of energy for our team and intimidates the other team. It will be a very good match to play and fun to watch."

Hubbard said free pizza and drinks will be provided at the beginning of the match on a first-come, first-serve basis to help promote a larger gathering this week.

The match begins at 1:30 p.m. on the Tut Bartzen Varsity Tennis Courts at the Bayard H. Friedman Tennis Center. The match will open with doubles play and move to singles.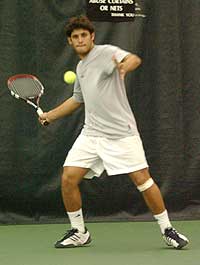 Ty Halasz/Staff Photographer
The No. 19 doubles team of sophomore Rafael Abreu (pictured) and Fabrizio Sestini led the Frogs in a 5-2 victory over Colorado Saturday at the Bayard H. Friedman Tennis Center.