The Pitino effect
Frogs to be tested by ranked team, respected coach
The Louisville Cardinals bring a lot more to the basketball court than a nationally-ranked team.

Not since the General Bobby Knight led his army of Red Raiders into Fort Worth last season has a more celebrated head coach graced the visitors' bench at Daniel-Meyer Coliseum.

Well, that's about to change at 6 p.m. tonight when the Horned Frogs host No. 10 Louisville.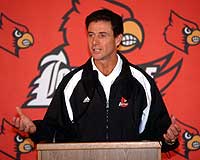 Courtesy of Conference USA
Rick Pitino and the No. 10 Louisville Cardinals will face the Frogs at 6 p.m. tonight in Daniel-Meyer Coliseum.
Offense lacking in 2 weekend defeats
A lack of discipline against Texas State drops the Horned Frogs' record to 1-3.

Head baseball coach Jim Schlossnagle said he wondered where the TCU team that showed offensive prowess a week ago went. The Frogs lost a Sunday doubleheader to Texas State as the Bobcats produced timely hits to beat the Frogs 7-4 in 10 innings in game one, and 6-2 in the night game.
Frogs face season's toughest foe
The men's tennis team brings a perfect record into their contest with No. 9 Texas A&M on Wednesday afternoon.

To reward the TCU men's tennis team for running their record to a perfect 3-0, the Frogs get a date with one of the nation's most dominant programs this week.