The Pitino effect
Frogs to be tested by ranked team, respected coach
The Louisville Cardinals bring a lot more to the basketball court than a nationally-ranked team.

By Brent Yarina
Sports Editor

Not since the General Bobby Knight led his army of Red Raiders into Fort Worth last season has a more celebrated head coach graced the visitors' bench at Daniel-Meyer Coliseum.

Well, that's about to change at 6 p.m. tonight when the Horned Frogs host No. 10 Louisville.

This time, however, the coach will leave behind the infamous red sweater and don a red tie, a meticulous hairdo and a championship swagger.

His name: Rick Pitino.

His track record: 413 wins and one national championship.

Head coach Neil Dougherty isn't intimidated though.

"There's no more pressure (Tuesday) than in any other game," Dougherty said. "Actually, if this game was between just me and Rick, I'd feel a lot better. But that isn't going to be the case."

Although Dougherty admits Pitino is a great coach, he said the players, in particular Louisville's tandem of Taquan Dean and Francisco Garcia, will determine the outcome of the contest.

"It's about the game, not as much about the coaches," he said. "And I don't think either team will be taking a step backward because they're afraid of what the other coach has accomplished."

Junior guard Corey Santee said he can't help but get a little excited over the opportunity to face Pitino.

"I'm pumped," Santee said. "This is national TV. We're playing at the crib. They're coming to our home court, so we're just trying to get one."

The Frogs aren't only going to be competing in the national spotlight on ESPN2 against Lousiville, but they're also expected to be playing in front of the year's largest crowd.
"It's going to be crazy and loud here," junior guard Marcus Shropshire said. "I hope everyone comes to the game and is ready to get crazy. This is a conference game and it's at home so we're excited."

Dougherty said Pitino will have to work for win No. 414.

"It's going to be a highly contested game," he said. "We don't need any reason to come out here and play well. We're playing a game against a well-known opponent and a highly ranked opponent on national TV. That is enough right there."

Shropshire said the Frogs have their work cut out for them against a Cardinals team with an aggressive defense and the second highest scoring offense in Conference USA at 74.5 points per game.

"They're very talented and well coached on both ends of the court," Shropshire said. "They get after you so we have to be alert and ready for the (full-court press)."

Santee said as long as the Frogs come prepared, they have a chance to defeat Pitino.
"You got to be focused," Santee said. "His ability to coach his team is great. If you want to beat a Rick Pitino-coached team, you have to bring your best."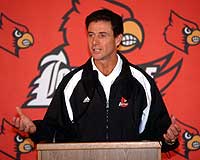 Courtesy of Conference USA
Rick Pitino and the No. 10 Louisville Cardinals will face the Frogs at 6 p.m. tonight in Daniel-Meyer Coliseum.