Talking Art
Art competition prepares students
Students express their creativity and get a taste of how the professional art world works in the 13th annual art competition in Moudy Building South.

By Lauren Lea
Staff Reporter

TCU students are showing their artistic flair in the 13th annual Cross/Talk Art Competition.
The show, located in the University Art Gallery in Moudy Building North, displays 26 unique pieces of art. The exhibit will run until Feb. 19.

"It's really interesting because it's a lot of alternative work," said Margaret Jackson, a senior sculpture major. "It's not just paintings or prints, it's mostly work that's really different."

The competition was open to students of all majors. They were allowed to enter a maximum of three pieces in each of the two categories, Graphic Design and Studio Art. Over 150 pieces were entered into the competition, but only 26 were accepted. Ron Watson, the art department chairman, said the acceptance rate is typical of a professional show.

"About 25 percent were accepted," Watson said. "It really depends on the jurors."
Judges were Edwin Holt, president of Holt Design Inc., and Matthew Bourbon, artist and professor of art at the University of North Texas.

Watson said one student took first prize in both categories, something that has never happened before.

Junior graphic design major Jayr Sotelo placed first in both the Graphic Design and the Studio Art categories. Sotelo said this was the first time his work has been accepted in the show.

"All the works are great," Sotelo said. "I was thrilled to even be placed. I wasn't expecting either of the prizes."

Watson said the school hosts the competition to prepare students for the professional world.

"It's pre-professional training," Watson said. "One avenue for artists to get recognition is through juried competitions and this prepares them for it. We also encourage our students to participate in outside competitions."

Jackson said she thinks the competition is a good learning experience for art majors. She had one piece accepted into the competition.

"Any competition is important to do because it's something you're going to do for the rest of your life," Jackson said. "It's a minor show in the grand scheme of things, but it is important because there are jurors from outside the TCU bubble."

Sotelo said he thinks the show is helpful because it gives students an idea of how they compare to other students.

"My peers all help me so much," Sotelo said. "The show gives you a more clear idea of where you stand in your art. They're all really good."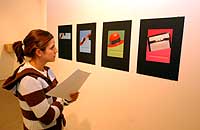 Ty Halasz/Staff Photographer
Senior interior design major Megan King surveys selected students' work from the 13th annual Cross/Talk Art Competition located in the University Art Gallery in Moudy Building North.