Horned Frogs hope more wins will score larger crowd
The Frogs are looking for bigger crowds to support their improved game.

By Ryan Claunch

In his second season as TCU's men's basketball coach, Neil Dougherty has his players looking up to him and believing they are capable of achieving great things.

After Monday's victory over South Florida, this has never been more apparent. The Frogs currently own their first-ever winning record in Conference USA (9-11, 5-4 C-USA), and have a group of teams looking up to them in the conference standings.

Everything about the program seems to be looking up in 2004, except for one thing: attendance.

This season, like most others, when a Frog looks up into the stands of Daniel-Meyer Coliseum, he sees more vacant seats than filled ones.

"The attendance at the games is something that definitely needs improving," head coach Neil Dougherty said.

This season, the average attendance per game is 4,514, filling about 63 percent of all seats available inside the coliseum.

"With attendance the way it is, we play primarily on a neutral court, where the crowd doesn't really have an effect on how the game goes," Dougherty said. "If we had bigger crowds showing up to support us during the games, it would definitely give us an edge."

Although TCU has a winning conference record, non C-USA games have attracted bigger crowds, averaging 4,561 fans compared to 4,432 for conference games.

Athletics director Eric Hyman said he is determined to get more fans in the seats to see the basketball program's improved product.

"The players are now beginning to truly represent TCU both on and off the court," Hyman said. "What we're looking at doing now is working with students in developing new ways to promote sporting events and draw bigger crowds that also reflect on TCU positively."

Hyman said he believes an increase in morale and support from the crowd will make TCU a force to be reckoned with.

"If we can get the crowds to equal what the players are giving every game, that will make Daniel-Meyer very tough on competitors and give us a better home advantage," he said.

Team members also stress the importance of large crowds.

"The crowd helps a lot," junior guard Marcus Shropshire said. "They give us lots of support and the extra energy to help us during the games."

Shropshire said the energy and cheers a crowd brings to the court help the team prepare for the game. He said increased fan support is wanted.

"I encourage people to come to the games," Shropshire said. "We really appreciate the support and the help it provides the team."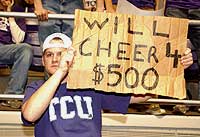 Ty Halasz/Staff Photographer
A fan demonstrates one of the reasons he is attending a men's basketball game.