Head baseball coach has big plans for team
Schlossnagle hopes to bring Frogs championship
First-year head coach Jim Schlossnagle has great expectations for the Horned Frogs.

Jim Schlossnagle's head coach at Elon College offered him a proposition during his sophomore season.

The coach's name was Rick Jones, and Schlossnagle credits him for his current profession.

At the time, Schlossnagle aspired to be a columnist for Sports Illustrated. He said he was a Rick Reilly hopeful and that he was covering any and every game he wasn't involved in from the time he was in high school.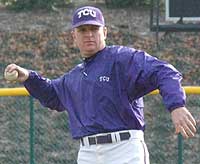 Ty Halasz/Staff Photographer
Head baseball coach Jim Schlossnagle hopes to lead TCU to the NCAA World Series.