A day for mourning
Body is Crane's; suspects charged
Police have recovered Laura Lee Crane's body and two suspects have now been charged with capital murder.

By Matt Turner
Staff Reporter

FORT WORTH — A body discovered Tuesday in southern Oklahoma was identified as that of missing retired professor Laura Lee Crane, police said Wednesday afternoon. Two Fort Worth residents linked to her disappearance have been charged with capital murder, police said.

Crane, 77, had been missing since Friday when she went on an errand to the Tom Thumb grocery store at 3050 S. Hulen and was kidnapped by Fort Worth residents Edward Busby, 31, and Kathleen Latimer, 39, said Lt. Abdul Pridgen, a Fort Worth police spokesman. Police say the former education professor and Starpoint School director died of asphyxiation after abductors wrapped duct tape around her face. Crane also had blunt force trauma to the head, police said.

Police aren't sure of the time and place of her death.

Pridgen said the body was found after Busby confessed Tuesday and led Fort Worth and Oklahoma City detectives to the site, which was near the 51 mile marker on a northbound service road of Interstate 35 near Davis, Okla. She was found wrapped in a white sheet and duct tape was still on her face, police said.

Pridgen said Crane had been abducted from the parking lot. The motive appeared to be robbery, said Lt. Roger Dixon of the Fort Worth police.

Dixon declined to comment about the condition of the scene where the body was found, but said police have several leads they have yet to pursue. He wouldn't comment when asked if Latimer had also confessed.

Dixon said decisions regarding extradition and the location of prosecution are still pending. Allen Walker, Crane's daughter, thanked the police, FBI, citizens from Texas and Oklahoma and friends in a written statement for their efforts to "bring our mother home."

She said Crane's students were her life and each of them now has "their own special guardian angel."

"We will now put our faith in the judicial system to see that the perpetrators of this horrendous crime are brought to justice," she said.

In a released statement, Provost William Koehler said the university is "saddened by the tragic death of Laura Lee Crane."

"Mrs. Crane had a profound impact upon the lives of many children and families through her work at TCU's Starpoint School," Koehler said. "She was a well-respected administrator and educator and made major contributions to both Starpoint and TCU's School of Education. She will be missed tremendously."

Dixon said the break in the case came when an Oklahoma City patrol officer pulled over the Crane's Nissan Sentra for a suspected illegal right turn early Sunday morning.

Busby was being held in the Oklahoma County jail for suspicion of unauthorized use of a motor vehicle, driving with a suspended license and making an improper right turn, police said. Latimer was being held on suspicion of possession of a controlled substance after a former felony conviction, possession of drug paraphernalia and unauthorized use of a motor vehicle, police said.

Pridgen said the shopping center where the kidnapping occurred is a safe area to the best of the police department's knowledge. "To our knowledge, this crime was random," he said.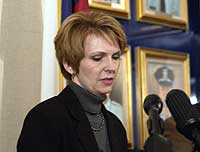 Sarah Greene/Staff Photographer
Allen Walker, daughter of retired professor Laura Lee Crane, thanked the community and law enforcement officials for their support in the search for her mother at a press conference held Wednesday afternoon at the Fort Worth police station downtown. A body found near Davis, Okla., was identified as that of the former Starpoint School director.