Switch brings tougher schedule
Schools in the Mountain West Conference are looking forward to the stiff competition and national media exposure TCU will provide.

The Horned Frogs are officially headed west, and their new Mountain West Conference peers say TCU's presence will bring added competition and media coverage.

The Board of Trustees voted unanimously Friday to accept an invitation from the MWC, which includes Air Force, Brigham Young, Colorado State, New Mexico, Nevada-Las Vegas, San Diego State, Utah and Wyoming. TCU will leave Conference USA for the MWC in fall 2005.
Fighting for the board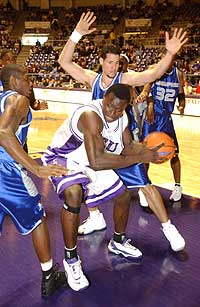 Ty Halasz/Staff Photographer
Freshman center Femi Ibikunle pulls down a rebound against Memphis Saturday afternoon in Daniel-Meyer Coliseum. The Frogs lost out to poor officiating and the Tigers 75-69.
Acceptance to conference leaves sudents in limbo
TCU students have varying opinions on whether they want to party in the Mountain West.

The student body had mixed emotions on the first day back to classes Monday since TCU's decision to leave Conference USA for the Mountain West Conference.
Lady Frogs stumble in double overtime

TAMPA, Fla. (AP) — Jessica Dickson hit a 35-foot desperation shot to end the first overtime, then added nine more points in the second to lead South Florida past No. 18 TCU 89-84 Monday night.