Search continues for Crane
Two suspects were arrested in connection with a retired professorÕs disappearance.

Law enforcement officials were still searching Monday night for retired professor Laura Lee Crane after her car was discovered in Oklahoma City and two suspects arrested in connection with her weekend disappearance.

Crane, 77, left her Bellaire Drive South home around 11 a.m. Friday to buy groceries and cash a check at the Tom Thumb supermarket at 3050 S. Hulen, Lt. Abdul Pridgen said. Crane stopped to visit a friend on the way to the grocery store around 11:15 a.m. and hadnÕt been seen since, Pridgen said.
Strike a chord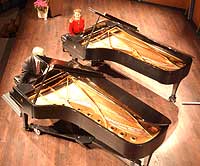 Ty Halasz/Staff Photographer
Pianists Dale Fundling (bottom left) and Jo Boatright perform a Mozart sonata for a packed house Sunday afternoon in PepsiCo Recital Hall in rememberance of former TCU faculty member Lili Kraus.