Let's not make a conference shift

Who knows how the invitation will look. Will it be printed in gold on paper so lavish it is used by the Trumps? Will it have an RSVP requesting a number of guests? Will it be received via a phone call, or an e-mail from the commissioner?

Regardless of how the Mountain West's invitation to join their conference should come, our answer should be no.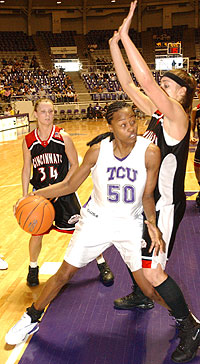 Photos by Ty Halasz/Staff Photographer
Junior forward Sandora Irvin became the all-time leading rebounder at TCU during the Cincinnati game Sunday afternoon.