Let's not make a conference shift

Carlos Alvarado

Who knows how the invitation will look. Will it be printed in gold on paper so lavish it is used by the Trumps? Will it have an RSVP requesting a number of guests? Will it be received via a phone call, or an e-mail from the commissioner?

Regardless of how the Mountain West's invitation to join their conference should come, our answer should be no.

The Board of Trustees should consider more than the Bowl Championship Series when they decide the university's athletic future. They should also take into account all the sports and the fans they are affecting.

Academics is the No. 1 priority of our all of our athletic programs. In fact, we declined the Mobile Bowl invitation, which is proof of that. That said, however, what will the move do to the number of school days missed by our athletes or the state they will be in when they return from competition? The estimated increase in the travel budget will be $220,000 but that does not include what the budget would be if we played a chunk of our games in Texas and surrounding states. Wouldn't it be better for our athletes to play a night game in Dallas and go to class the next day than it would be for them to play out in Utah or Colorado?

What about the fans? How can the casual fan ever make it out to these places the Mountain West calls home? Memphis, Houston, Dallas, Tulsa and New Orleans? All can be made in a day's drive. The rest of the trips aren't that bad if you have to do them once in a blue moon. As a fan, I visited more road stadiums this year than in years past because they were so close. I was even tempted to go to Arizona or Florida because I knew it was only once in a while that I had to make such a trip.

This decision is good for neither our fans nor our athletes, and it can't help recruiting any. It might help in football, but what about our other sports? TCU's sports program recruits players from Texas, because our players want to play in a program that allows their parents and friends to watch them play without having to make special travel plans. Golf, basketball, soccer, baseball, tennis, track and swimming and diving, all need to be considered when deciding to make the big jump.

Unfortunately, only one will be thought of: football. I am a big fan of the football program, and I love the sport of football more than any of the others mentioned above, but it shouldn't be the sole reason we leave our conference.

While the football team may benefit from being in a better football conference, is it really worth it? We should schedule better non-conference foes, and to win our conference every year in C-USA. Even in a bad year, we could still be good enough to make the Liberty Bowl. The teams in C-USA can only get better.

Houston is on the rise, SMU has a good young coach that can only take the program up, Southern Miss is moving up on the radar and Marshall is already on the radar.

When the Mountain West receives our invitation card, it should have a check by 'No, I will not be attending.' And the reason should be it isn't worth it.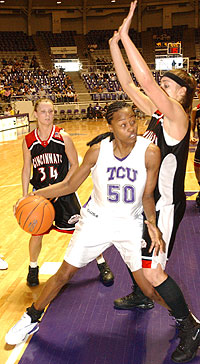 Photos by Ty Halasz/Staff Photographer
Junior forward Sandora Irvin became the all-time leading rebounder at TCU during the Cincinnati game Sunday afternoon.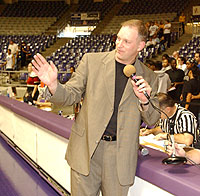 Photos by Ty Halasz/Staff Photographer
Head coach Jeff Mittie received a game ball for recording his 100th TCU win after the Frogs won 73-57.