New software to eliminate SPAM
Computers that do not have Norton AntiVirus will be disconnected from the network by Feb. 1.

By Elizabeth Serio

New software, called Ironmail, is currently being tested and will be implemented in the next three months to block all SPAM e-mail, said Dave Edmondson, assistant provost for Information Services.

While SPAM accounts for nearly two-thirds of all e-mail received by TCU network users, only a fraction of it is actually seen by the recipient. Most of it is blocked before it even reaches the user's inbox. Users will receive weekly summaries of all blocked e-mails, including date, time and sender information.

Matt Meyer, a junior computer science information major, had no idea that most of his mail is blocked before he sees it, but appreciates not having to sift through junk mail.

"I think the e-mail is a lot better than other servers," he said. "I couldn't be happier."
Although junk mail may contain viruses, it is not directly related to the three major viruses
that infected computers and slowed the network last fall, Edmondson said.

"I couldn't afford for that to happen in the spring semester," he said.

The most practical solution was to have Norton AntiVirus software downloaded on all on-campus computers, Edmondson said. Starting Feb. 1 computers without the software will be disconnected from the network.

Protecting the network costs $400,000 a year excluding labor, Edmondson said.

"We're spending more money now just to protect university computing than we were spending on the computers themselves when I came here in the 1970's," he said.

But the benefits outweigh the expenses, Edmondson said.

"Our network is performing better than ever before," he said. "Many corporations have been shut down by viruses. Not TCU."

Some student computers were disconnected from the network last fall because the students were illegally sharing music files, said Shelley Story, assistant dean of campus life. The students were reconnected a few days later after they deleted the files and followed a few steps, she said.

"Most people really understand, they're really putting themselves at risk," she said.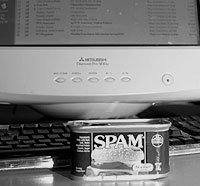 Staff Photo
Spam
• Protecting the network costs about $35.88 per person every year.
• Norton AntiVirus software costs $49.95 at retail prices.