Brite prez inaugurated in ceremony

By Julia Mae Jorgensen

D. Newell Williams was inaugurated as the second president of Brite Divinity School Thursday night in a ceremony at University Christian Church.

"I promise to lead Brite Divinity School women and men in the world with all its complexities and ever changing challenges," he told the audience in his inaugural address.

Williams, a former professor of church history at Christian Theological Seminary in Indianapolis, said the experience was humbling.

"This is a school that wants to serve the world," Williams said. "We need to live the bigger vision that we already have."

David J. Gouwens, professor of theology and interim dean of Brite, said the inauguration was a special occasion.

"It is a solemn and joyous event in the life of Brite Divinity School," Gouwens said.

The ceremony was the final in a series of events celebrating Brite's new president. An afternoon church service was held at UCC followed by a reception and buffet in honor of the Williams family.

Williams is an ordained minister of the Christian Church (Disciples of Christ) and was both associate and assistant dean at Brite between 1978 and 1984.

"He has a number of credentials that moved us," said Larry J. Smith, chair of the presidential search committee.

The search for a new Brite president lasted 15 months and over 70 candidates were considered, Smith said. Williams was chosen as president by a unanimous vote.

Williams and his wife, Rev. Sue McDougal, moved back to Fort Worth this summer with their children, Mac, Coert and Errett.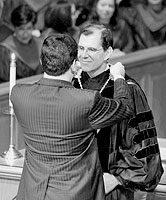 Ty Halasz/Staff Photographer
D. Newell Williams is officially installed Thursday as the president of Brite Divinity School by Terry Simmons, secretary of the Board of Trustees.