Artist returns to share his 'Passion' with TCU dancers

By Erin Clark
Staff Reporter

A world renowned choreographer often described as the greatest American male dancer of his generation returns to TCU in February.

Fernando Bujones will continue a choreographer-in-residence collaboration with the department of ballet and modern dance that began in 1996. Bujones will begin his 10-day stay Feb. 2. He will work with students rehearsing the ballet "Pasión y Fuego" to be performed at the TCU Latin American Festival in April.

Bujones' wife, María, said Fernando is excited to come back to TCU.
"Fernando likes TCU because it is very special for him to work with smart students who show up willing to work," she said. "They are like sponges; very hungry to learn. It is different than working with professional dancers. It is a mutual learning experience."

Scott Sullivan, dean of the College of Fine Arts, said dance students are privileged to have more than one opportunity to work with Bujones.
Since the choreographer-in-residence program is not part of the annual budget, this years' $30,000 price tag must be raised using private sources. The total includes Bujones' fee, travel, lodging and meal expenses, Sullivan said.

There is no deadline for raising the money, Sullivan said, but the goal is to have the funds raised in one year. So far, the department has $250,000 of a $600,000 endowment that would generate the income to continue the program. Sullivan said the endowment is necessary to relieve the department from having to raise money during the year.

Sullivan said visiting artists are important to the department because a professional reference from Bujones could be valuable for a dancer's career.
"His visit distinguishes our dance program," Sullivan said. "It gives them (students) an opportunity that can't be duplicated anywhere in the country."
Junior ballet major Alexandra Mount-Campbell said she is looking forward to Bujones' visit.

"I really enjoy working with him," she said. "He's an amazing dancer with tons of experience and is very well-known in the dance world."

María Bujones said Fernando is inspirational. "His passion for dance is contagious. He has this Latin fire whenever he executes a step," she said.
Bujones' piece, "Pasión y Fuego", was originally performed in Madrid and later in Mexico.

She said the ballet's Hispanic flare will fit the style of TCU's festival. Bujones' piece joins ballet and modern dance pieces by TCU faculty Li-Chou Cheng and Christian von Howard, and guest artists Jessica Lang of New York, Miguel Mancillas of Mexico and Sabrina Castillo Gallusser of Guatemala.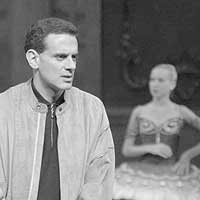 Michael Cairns/ Special to the Skiff
Fernando Bujones, currently the artistic director for the Orlando Ballet, rehearses with the dancers before a performance.