Weekend Sports Follow-up

Sport Gameday Opponent Score
(M) Basketball Friday Cincinnati Cincy 85, TCU 57
(W) Basketball Sunday Houston Houston 61, TCU 59

(W) Swimming /diving Friday Houston TCU 168, Houston 130
(W) Swimming /diving Saturday New Mexico State TCU 126, NMS 103
(M) Swiming/diving Saturday Florida Florida 129 , TCU 113.5

Track Saturday Oklahoma Indoor Classic Men 3rd Place, Women 3rd Place

Weekend Highlight
°Junior forward Sandora Irvin compiled another double-double, scoring 11 points and grabbing 12 rebounds against the No. 25 ranked Houston Cougars Sunday. In 30 minutes of action, the returning C-USA Defensive Player of the Year proved her worth on the defensive end, blocking two Cougars' shot attempts. For the season, Irvin has 56 blocks, increasing her university career blocks record to 269.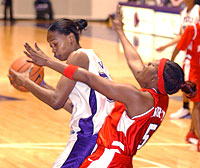 Ty Halasz/Staff Photographer
Junior forward Sandora Irvin recorded a double-double in a loss to Houston.