Herriott makes first on-campus impression
TCU faculty met the first of three Provost candidates in a forum Tuesday.

By Lacey Krause
Staff Reporter

Provost candidate Arthur Herriott emphasized the university's role as a liberal arts institution in a faculty forum Tuesday.

"Liberal arts are an important part of the training of any student," he said. "You're not just training them for an immediate career."Herriott, a chemistry professor at Florida International University in Miami, is one of three provost candidates, along with TCU geology department chairman Nowell Donovan and DePaul University College of Liberal Arts and Sciences Dean Michael Mezey.Herriott also discussed TCU's role as a liberal arts institution versus its role as a research university.

"It doesn't have to be either/or," he said.

However, TCU will have to refocus a bit if it wants to be a research-intensive university, he said.

"You're on the low side of that group of players," Herriott said. "Whatever you do, you need to protect the quality of the undergraduate program."Students also need to learn integrity and leadership in order to succeed in their careers, he said."In the curriculum, you have formal courses where you introduce values," Herriott said.

Faculty in every discipline should address ethics and values issues, Harriott said. He cited FIU chemistry professors discussing accuracy in data as an example.

"You're modeling ethical behavior when you teach in that way," he said. "One of the things we've done at my university is we have a student code of conduct that's read aloud at freshman convocation."

Herriott also emphasized "non-classroom experiences" such as studying abroad, faculty-student research projects, community service and involvement in campus organizations. These experiences are essential to building leadership and community, he said.

Political science professor Charles Lockhart asked Herriott how he planned "to deal with a university that wants to get better."

"If you don't get better, you're falling behind," Herriott said. "Getting better is the name of the game."

Many faculty members asked Harriott questions regarding budget issues. Several factors will impact the way resources are allocated, Herriott said.

"Where are the students? We have to serve the students," he said.

Herriott will also consider profitability when allocating resources.

"Where are you going to get a return on your investment?" he asked, adding that similar factors would affect the distribution of graduate student funds.TCU only has six doctoral-granting programs, and those programs are modest in size, he said.

"It looks like you either need to expand at that level ... or decide that isn't as central to the mission as you thought," Herriott said.

Herriott characterized his management style as a team approach in which people are free to ask questions.

"My style is one of openness," he said. "I want to be able to defend any decision I make and give reasons."

Several professors declined to comment on the forum. But Jean Giles-Sims, a sociology professor, was impressed by some of Herriott's qualities.

"I thought he handled questions with grace and showed concern," Giles-Sims said.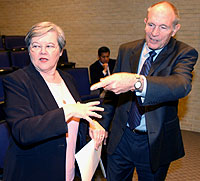 Ty Halasz/Staff Photographer
Provost candidate Arthur Herriot fielded questions in an open meeting Tuesday afternoon in the Sid Richardson Building.