Frogs prepare for weekend cat fight
After two conference wins, the Frogs head to Cincinnati to face one of the hottest teams in college basketball.

By Danny Gillham
Skiff Staff

The men's basketball team is currently enjoying the first time it has ever been above .500 in the Conference USA standings.

It may be short-lived, though, as the Frogs (6-8, 2-1 C-USA) play at Cincinnati (12-0, 3-0 C-USA) 6 p.m. Saturday.

The Bearcats (No. 7 ESPN/USA Today Coaches' Poll) are coming off a convincing 85-73 win at No. 21 Marquette Wednesday night.

One of five undefeated teams left in Division I-A, Cincinnati is winning by an average 25-point margin.

Head coach Neil Dougherty said for TCU to win, Cincinnati must have a down game and the Frogs must play a great game.

"They have everything," Dougherty said. "They have great perimeter play, they have great post play and they have great depth. I think when you have those combinations, you can win basketball games a lot of different ways. They have answers to all the problems you face in college basketball."

Cincinnati has the reputation of a physical team that relies more on defense than scoring, but are currently putting up 83.5 points a game.

With their athleticism, they are emphasizing full-court pressure and possess good shooters.

"Because they have so many good players, they are pressing this year," Dougherty said. "I think for them, they are playing a much higher possession game than maybe people are used to seeing."

Regardless of the team's current scoring output, sophomore forward Chudi Chinweze said the Bearcats still like to mix it up inside and play physical.

"They're right up there with Kansas and Vanderbilt," Chinweze said. "They will be one of the fastest teams we've played too."

Against Marquette, Cincinnati forced 23 turnovers, but senior guard Nucleus Smith said that shouldn't happen if the Bearcats choose to press in the open court.

"(Travis) Deiner is the only point guard they have," said Smith of Marquette. "We have a few people bring up the ball, and won't have to worry about tiring because of their pressure."

TCU finds itself sandwiched in the Bearcats' schedule between two ranked opponents. Cincinnati will play at No. 9 Louisville next Wednesday after its game with the Frogs.

Bearcats senior guard Tony Bobbitt was quoted worrying about the Cardinals after the Marquette game, giving no mention to TCU.

"I just think come Wednesday, it's going to be a lot tougher," Bobbitt told the Cincinnati Post. "We go to Louisville."

Despite Bobbitt's post-game neglect to remember the Frogs, Dougherty said he doesn't expect his team to be overlooked.

"I hope they are overlooking us," said Dougherty in a joking manner. "I know that (Cincinnati coach) Bob Huggins isn't going to allow that. I think he will remind them they were fortunate to get out of here last year (an 83-72 Cincinnati win at Daniel-Meyer Coliseum). I expect the traditional hard-nosed game you would expect from Cincinnati."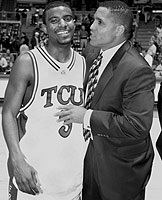 Ty Halasz/Staff Photographer
Head coach Neil Dougherty congratulates junior guard Corey Santee on a good game after beating Tulane last weekend. The Frogs will ride a two-game winning streak into Cincinnati to take on the No. 7 Bearcats tonight at 6 p.m..