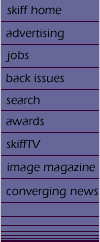 Frogs win at buzzer

By Jerry Wizig
The Houston Chronicle

HOUSTON – TCU overcame an early 14-point deficit to beat the University of Houston 55-54 thanks to Chudi Chinweze's put back in the final second on Tuesday night at Hofheinz Pavilion.

Without a monitor of the scoreboard replay, the officials had no way to look at the play again and the Horned Frogs (6-8, 2-1) danced off the floor to their locker room with their second straight Conference USA win.

Chinweze, a 6-7 sophomore from Hightower, had game highs of 18 points and 12 rebounds. That also was the first double double of the season by a Horned Frog.

"I'm a little fast, and I just tried to get to the ball as fast as possible," Chinweze said of his putback of Marcus Shropshire's missed 12-footer from the left of the lane.

Andre Owens fired in a 3-pointer with 59.5 seconds remaining for a 52-51 UH lead after missing his last eight treys. Corey Santee drove for a layup over foul-plagued Anwar Ferguson with 18 seconds to go for a 53-52 TCU lead. With a foul to give, Shropshire fouled Owens, then was called for holding Oliver with five seconds left. Oliver converted the one and one for a 54-53c UH lead, setting up the frantic finish.

Mark Whitehead, the official on the baseline in the left corner, signalled the basket good, then referee Scott Thornley asked the scorer's table if a TV monitor was available. Told it was not, since it was not a televised game, Thornley went with Whitehead's decision.

Oliver (14) and Owens (11) were the leading scorers for UH, not 6-7, 0-3 C-USA after suffering its fourth straight loss.

Nucleus Smith drove the lane to score for TCU before Owens' assist to Ferguson for a slam carried UH to a tie at 49 with 1:48 to go, but Marcus Sloan was clear underneath to tip in Santee's missed 3-pointer for a 51-49 Frogs lead.

Blake Adams' 3-pointer and Chinweze's layup sent TCU into a tie at 35 and Shropshire's 3 made it 38-35 for the Frogs first lead with 8:53 to go, then Shropshire answered Bryan Shelton's trey with two free throws for a 40-38 lead for the Frogs. Santee's 3-pointer after Chinweze made one of two free throws had TCU in front 44-42. Shelton's 3-pointer again sent UH ahead by one. TCU replied with Santee's trey to regain the lead 47-45 and Ramon Dyer's putback tied at 47.

The Cougars managed to open a 31-23 margin as TCU started the second half by missing its first seven shots but UH misfired on six of its first eight and led only 31-29 after Chinweze's 3-point play on the Frogs' first basket of the second half after nine straight misses.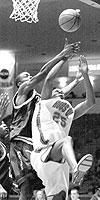 Karen Warren/The Houston Chronicle
Junior forward Marcus Sloan battles against Houston's Ramon Dyer for a rebound in the second half of play at Hofheinz Pavillion. TCU won on a buzzer-beater 55-54.