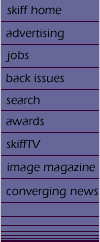 Former athlete to be re-tried in March
A judge declared a mistrial in the capital murder case of a former TCU football player after jurors could not reach a unanimous decision.

By Lauren Lea
Staff Reporter

Frank Allen Montgomery Jr., the former football player who is accused of fatally injuring his former girlfriend's 16-month-old daughter, will be re-tried March 29.

A judge declared a mistrial in December after the jury could not reach a verdict after four days of deliberation; eight of the 12 jurors did not believe he was guilty of capital murder. In addition to that charge, jurors could have considered three lesser charges.

Had Montgomery been convicted of the higher charge, he would have been sentenced to life in prison.

Savannah Koiner, the daughter of Montgomery's former girlfriend, Roxane Lawrie, died last July of severe blunt trauma to the head, the medical examiner ruled.

Defense attorney Wes Ball said Savannah suffered a burn on her back July 1 by falling against the open oven door while playing on a stool. The next afternoon Lawrie left Savannah in Montgomery's care.

Prosecutor Jay Lapham said Savannah was either struck by a blunt object or was struck against a blunt object. The exact circumstances were not known because they couldn't find a murder weapon, he said.

Montgomery called 911 when she stopped breathing, Lapham said. The child died the next day.

Ball said Montgomery gave the police several different statements about the events leading to Savannah's death because he was under extreme pressure.

There were "significant deficiencies" in the police investigation, Ball said. He questioned why Lawrie was not interrogated as thoroughly as Montgomery.

Lapham said Montgomery intentionally caused Savannah's injuries and failed several polygraph tests.