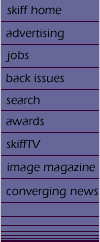 Super Star
Mascot gets national TV exposure
SuperFrog appeared in several Nokia commercials nationwide along side Snoop Dogg and Johnnie Cochran during the Sugar Bowl and other Bowl Championship Series games.

By John Anderson
Staff Reporter

A frog meeting a queen might sound like a fairy tale, but it's one that Jeff Crane will get to share for the rest of his life.

SuperFrog, played by Jeff Crane, assistant marketing director for athletics, was in a series of interactive Nokia commercials directed by filmmaker Guy Ritchie. Crane got to meet pop queen Madonna, who visited her husband, Ritchie, on the set in Los Angeles with their 3-year-old son, Rocco.

Madonna wanted her son to meet SuperFrog but he was intimidated by the horned frog and stepped back toward his mother, Crane said.

Hip-hop star Snoop Dogg played the role of a detective in search of the stolen ADT National Championship Trophy with SuperFrog, one of the prime suspects in addition to ESPN football analyst Terry Bowden and a sports fan.

TCU sent Crane to Universal Studios in Los Angeles. Crane replaced the normal students who play SuperFrog since the taping took place during finals week.

"I thought it was a great experience to see how things worked in Hollywood. I would love to do it again," Crane said.

One of the commercials included a scene with Snoop Dogg interrogating SuperFrog and attorney Johnnie Cochran defending him.

"Johnnie Cochran was the most cordial of anyone I met," Crane said. "Snoop Dogg is a big football fan and he knew TCU's record off the top of his head."

SuperFrog posed for a picture with Cochran and gave Snoop Dogg a TCU football jersey with his name on the back.

The commercials not only provided SuperFrog with a good story to tell, but it also led Nokia to donate $5,000 to the TCU Scholarship Fund and gave TCU a lot of publicity.

"It gets our name out there," athletics director Eric Hyman said. "Seven million people saw us play against Boise State, over 100 million saw us at the Sugar Bowl."

Associate athletics director Kevin O'Connell said Nokia approached TCU in late November because they wanted to reach the 18- to 35-year-old market.

"Nokia chose us because we were the Cinderella team of college football," Hyman said.

An estimated 100 million people saw the commercials during the Sugar Bowl, O'Connell said. The nationally-viewed commercials started airing Dec. 5 during NFL, NBA and NCAA games.

"I was happy to see TCU associated with a great company like Nokia," Chancellor Victor Boschini said. "I have to say, though, that I think I am too old to understand the exact message of the commercial."

Boschini said he just enjoyed seeing SuperFrog on national television.

O'Connell said that raising TCU's national recognition helps the university achieve some of its goals.

"It has helped to raise our profile of the school," O'Connell said. "People have called in to say how much they liked seeing SuperFrog in a major BCS game."

Crane said the commercials will help exponentially down the road with recruiting and getting people to Amon Carter Stadium.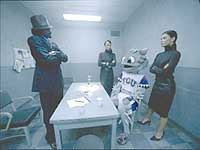 Courtesy of The Richards Group
Snoop Dogg interrogrates prime suspect SuperFrog during one of the final Nokia commercials.