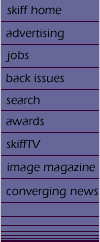 5 Good Questions
Five quick questions for TCU men's basketball head coach Neil Dougherty

1. Can TCU play spoiler in C-USA?
"We hope to do a little more than just play spoiler after only two games. But we're a young team that is finding their way in a tough conference."

2. Are the young players starting to get the hang of the system?
"They are getting better each day. Any program that came from where we came from last season is going to have a learning curve. They're starting to respond, but they're no where near having complete understanding yet."

3. Where can the team improve?
"Right now, reading and understanding the offensive set. We are much further along in our defense than our offense. But the biggest area is our mental and physical maturity. That takes experience of playing games."

4. What are the goals for conference play?
"We're going to take it one game at a time and learn how to be competitive in that game. We don't have a complete grasp yet. So we have to find how we can win and do what we do. Our ultimate goal is for us to win as many conference games as possible and get into the C-USA tournament. Which we missed last season."

5. Who needs to step up?
"Well everyone needs to get better. But our backcourt of older players are the ones we need to look at. [Corey] Santee, Chudi [Chinweze] and Nucleus [Smith] are the ones we need to look at to take on more responsibility, and they are starting to do so."