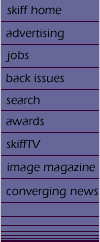 Basketball facility will assist practice for both teams upon completion
The basketball practice complex is nearing completion and all the funds have been raised. The teams are excited about practicing in a space they can call their own.

By Erin Baethge
Staff Reporter

The new basketball practice facility is on schedule for completion in early March despite some construction delays in December caused by strong winds, associate athletics director Ross Bailey said.

The strong winds prohibited the construction crew from laying metal roof panels on the Ed and Rae Schollmaier Basketball Practice Complex, located southwest of the Daniel-Meyer Coliseum, for several days, Bailey said. The plan is for the facility to be ready by March 4, he said.

The practice complex will have a Connor Uni Force Floor, the same floor installed in the coliseum, but major indoor tasks need to be completed before the installation, Bailey said. The floor's flexibility allows for the high level of shock absorption, which makes jumping easier on the players' legs.

"This is the best floor on the market right now," Bailey said.

The 22,000-square-foot complex will feature office space for coaches, conference rooms, media rooms, a weight room, locker rooms for the coaches and a lobby.

The new facility will make practice more efficient since the two practice courts combined have six baskets which allows individuals to practice simultaneously with the team, men's basketball head coach Neil Dougherty said.

Women's basketball coach Jeff Mittie said the new facility will benefit the teams because each will have their own space and won't have to share it with other campus groups or social functions.

Funds for the $5.8 million complex were raised by 45 donations, including the $1.5 million naming gift by TCU Trustee Edgar H. Schollmaier and his wife, Rae, said Davis Baab, associate athletics director.

"We've seen a lot of growth at TCU in the past three years because of the generosity of alumni and of friends," Bailey said. "They believe in the mission of the athletic department and support it by their funding."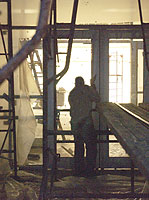 Ty Halasz/Staff Photographer
Construction on the new basketball facility's interior continues as the March deadline approaches.